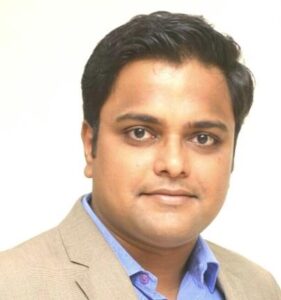 MS, DNB, FMRF, FICO (UK), MRCS
(Edinburgh), MNAMS, MBBS
Speciality: Cataract and Vitreo-retinal
surgery
Trained extensively for 15 long years, Dr. Anmol Naik is a renowned Eye specialist & surgeon. He is currently the Director at Nakshatra Superspeciality Eye Hospital, Wakad, Pune. He did his MBBS from Rajiv Gandhi Medical College, Mumbai and then achieved his post-graduate Master's degree in Ophthalmology from Asia's oldest and one of India's best Medical Colleges – the Grant Medical College & Sir J. J. Hospital Mumbai. Following this, he underwent a rigorous two-year fellowship program in Retinal surgery at Sankara Nethralaya , Chennai – India's best and one among world's leading centres for retinal diseases. He has been a brilliant academician throughout his career. He was among the state rankers in Merit List in Maharashtra in both SSC and HSC examinations. He was also the recipient of 'Best Resident doctor' and 'Best Fellow' awards in his post-graduate and supers pecialization courses respectively. He is the recipient of the V.T. Doshi Gold Medal conferred by Sankara Nethralaya, Chennai for being the best Fellow in vitreo-retina fellowship. He has several publications in indexed journals of national & international repute. He specializes in cataract and retinal surgeries. His areas of interest include Diabetic retinopathy, Uveitis and Retinopathy of Prematurity. He is a visiting consultant in various hospitals across Pune and a member prestigious state, national and international ophthalmological societies.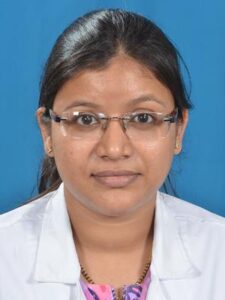 MS (J.J Hospital Mumbai), DNB,
MNAMS FAEH
(Pediatric Ophthalmology & Squint,
Aravind Eye Hosp, Madurai)
The other pillar of Nakshatra Superspecialty Eye Hospital, Dr.Shveta Gadewar is a well-known children's eye specialist and squint surgeon. She is currently the joint Director at Nakshatra Superspeciality Eye hospital. She too has a long professional meritorious record. She completed her Masters in Ophthalmology from the Grant Medical College & Sir J. J. Hospital Mumbai. Following this, she was among the select few who underwent training in Paediatric Ophthalmology & Strabismus (Children's eye diseases & Squint) from the world – renowned Aravind Eye Care System at Madurai – which is a role model and has become the benchmark for eye care, even for international institutes. She too is a keen academician apart from being an adept surgeon. Her areas of interest include squint, amblyopia (lazy eye management) and pediatric cataracts.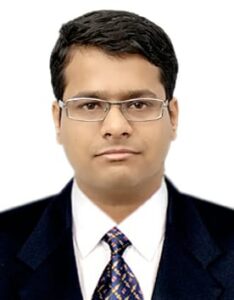 MS Ophthalmology,
Fellowship in Cornea – Sankara Eye 
Hospital, Karnataka
FMRF – Cataract & Community 
Ophthalmology (Sankara Nethralaya,
Chennai)
Dr. Pranav Radkar is an on-call cornea and cataract surgeon at Nakshatra Superspeciality Eye Hospital. He specializes in dealing with diseases of the cornea such as corneal ulcer, corneal dystrophies and degenerations, keratoconus and other ectatic corneal diseases. He has a prolific experience from the best intitutes across India and has presented papers at various state and national level conferences.  He has expertise in corneal procedures such as penetrating keratoplasty (corneal transplant), DALK, DSEK, DMEK (various types of corneal transplant) as well as C3R procedure for keratoconus.
DNB Ophthalmology
 (Sankara Nethralaya, Chennai)
Fellow & Ex-Consultant  -Oculoplasty &
 Ocular Aesthetics 
(Aravind Eye Hospital, Madurai)
Dr Namrata Adulkar graduated from the prestigious Seth G S Medical College and King Edward Memorial Hospital, Mumbai. She completed her ophthalmology residency training from Sankara Nethralaya, Chennai. After finishing residency, she followed her interest in oculoplastics by doing a fellowship at Aravind eye hospital, Madurai. She was associated with Aravind Eye Hospital, Coimbatore as consultant for 3 years. Following this, she pursued a long-term fellowship in Oculoplasty & Orbital surgery at the University of British Columbia, Vancouver, Canada. She has also completed a short-term stint in facial aesthetics at Moran Eye Centre, University of Utah, USA. She was the recipient of the prestigious Lachlan McNeil scholarship in Ophthalmology granted by the Royal College of Surgeons, UK in 2017. She practices across various hospitals in Pune and is a visiting consultant for  Oculoplasty at Nakshatra Superspeciality Eye Hospital.